ABOUT US
About Our Private Nature Preserve with Sculpture Garden
The Trees
When a 75-year-old pecan tree fell down, it seemed like a calamity! But no – it was an inspiration in disguise! This ancient, sheltering tree lives on. The enormous stump has become a Pecan Throne – just right to spark your child's imagination – and it's now the centerpiece of the Sculpture Garden on 'The Great Lawn.' The tree's sturdy trunk and branches have become 7' foot long hand-carved benches surrounding the central BBQ, fire pit, and artist's carvings.
Tall trees divide River Acres RV Park into four intimate sections – each offering its own common area with firepit, BBQ, and seating. With an average of 217 sunny days per year and NO snowfall, you'll enjoy convivial dinners under the stars year-round.
The River
Private access to the Guadalupe River means that the river and the adjacent wetland will always remain a preserve, filled with cottonwood willows, pecan, and cypress trees, elephant ears, cattails, big fish, birds, and all sorts of wildlife. Nature is our passion.
Admire the beautiful and ecologically-sensitive surroundings from wooden boardwalks. Fish for perch, large bass, and catfish. Here at River Acres, you can experience some of the best catfishing along our river access. Swim and kayak in the Guadalupe's waters. Go tubing! River Acres RV Park will remain a 'nature preserve' and sanctuary forever, because only River Acres guests have access to its waterfront.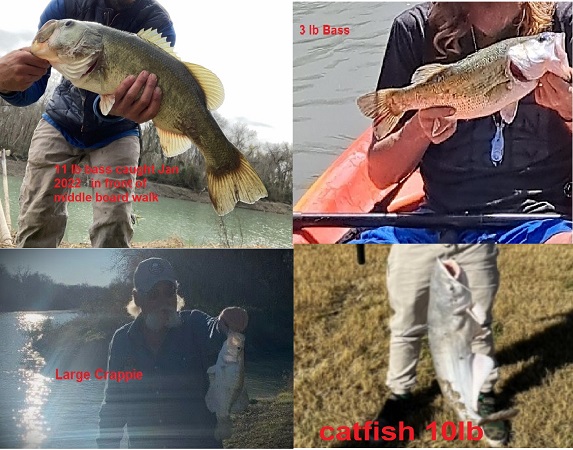 Request Your Stay in a Unique Environment at River Acres RV Park